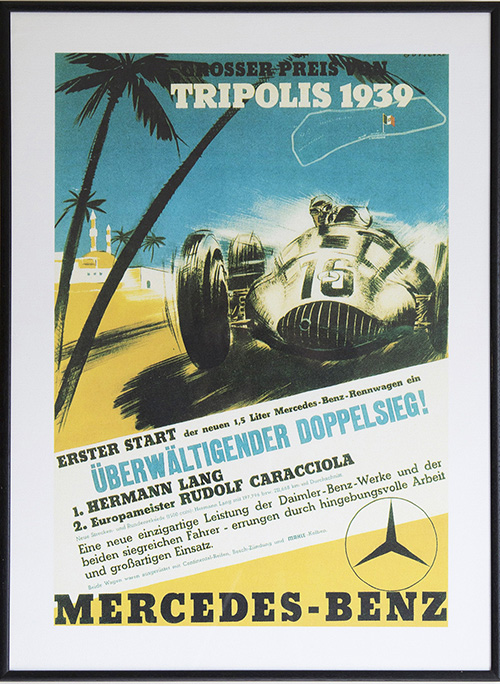 A reproduction poster promoting the 1939 Tripoli Grand Prix.
These days the glamour aspect of formula one motor racing is epitomised by one particular event on the calendar, the Monaco Grand Prix. With its backdrop of classic architecture, millionaires yachts and celebrity spectators, all presided over by a royal family, the race simply oozes wealth and prestige.
Prior to the Second World War however, the race had an exotic competitor for the glamour stakes, located just across the Mediterranean. Since 1911 Tripoli had been the capital city of Italian Tripolitania, a region in north-west Libya that Italy took possession of after victory in the Italo-Turkish war. By the 1920s the colony was looking at ways to generate increased income via tourism and, Italians being keen motorsport fans, hosting a grand prix seemed a good way to do so. The balmy weather, palm trees and eclectic mix of Italian neo classic and modernist architecture certainly didn't hurt either and the inaugural race event kicked off in 1925, four years ahead of the first race at Monaco.
Initially the race was held on a street circuit in the capital but in 1933 the event moved to a 13 kilometre purpose built track near the Mellaha salt lake. The new 'Circuito di Mellaha' was one of the fastest in the world, attracting the best drivers of the era. Due to the Formula Libre standards of the day, effectively meaning no restrictions on weight or power output, this also meant that the podium inevitably became dominated by the strongest and best funded teams. Mercedes Benz triumphed in 1935, 1937 and 1938, ceding only to Auto Union in 1936. Increasingly frustrated by the two German behemoths, Italy attempted to nullify their dominance by introducing a 1500cc engine limit for the 1939 race, the event depicted in the featured promotional poster.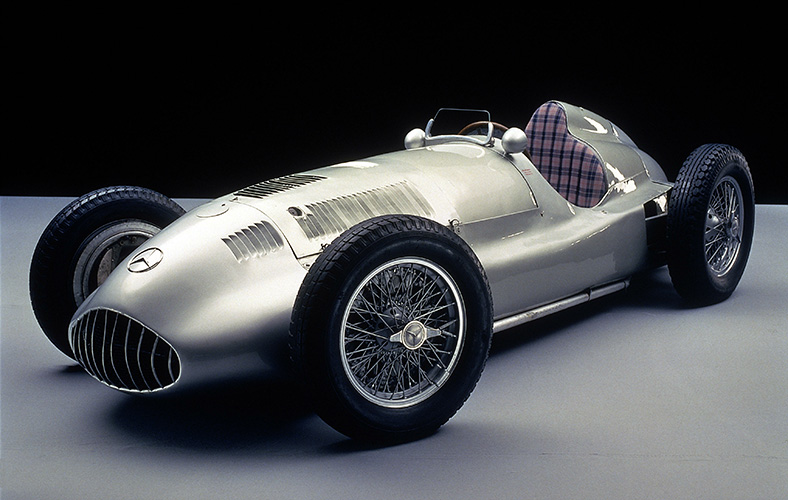 The sheer ambition of the Mercedes Benz team, however, would not be fettered by a simple rule change. In just eight months the team produced the W165, a completely new 1.5 litre car designed specifically for the 1939 race. A spectacular 1-2 victory followed with Hermann Lang across the finish line ahead of teammate Rudolf Caracciola.
There was some joy for the Italians the following year with the 1940 victory of Giuseppe Farina in an Alfa Romeo although, due to the looming world war, the field was significantly reduced with the absence of both Mercedes Benz and Auto Union. This was also the final running of the Tripoli Grand Prix.