Original Scalextric tracks and accessories.
Since1957 Scalextric sets have been providing the excitement of scale motor racing to adults and children alike throughout the world.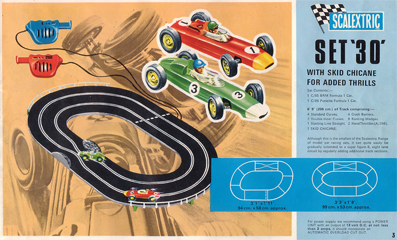 Invented by Englishman Fred Francis, the Scalextric system was introduced to the public at the Harrogate Toy Fair and became an instant success. The first sets came with interconnecting rubber tracks and two metal scale cars depicting a Ferrari 375 and a Maserati 250F, models which were driven in period by big name racing stars such as Stirling Moss and Juan Manuel Fangio.
Plastic later replaced rubber and metal for both the tracks and the cars but the attention to detail was never compromised.
This has always been the main attraction of the Scalextric system, especially as the model car range expanded; the fact that you could race detailed replicas of your favourite real life racing cars on a recreation of your favourite real life track in your living room, den or garage.