A 1970's Alfa Romeo steering wheel by Personal.
The early development of the motor car saw many innovations that would set the automotive standard for all subsequent designs, although some took a turn or two to evolve. It may seem obvious now but the method of steering was not initially performed via a round wheel. The earliest self propelled vehicles, such as the 1886 Benz Motorwagen, used a tiller, similar to that found on a sailboat to turn the rudder.
The deficiencies of this design were soon made apparent, especially as both speed and power increased. There is no definite record of the first implementation of a steering wheel, but the first appearance of note was in 1894 when Alfred Vacheron participated in the Paris -Rouen race in a Panhard model 4hp so equipped. From 1898 steering wheels were standard across all Panhard models, a trend that was soon followed by just about every other automobile manufacturer.
For many years the steering wheel was simply a practical, prosaically designed accessory attached to the vehicle. By the 1920s, however, increased aesthetic attention was given to almost every visible part of an automobile, including the drivers operating controls.
Materials such as Bakelite, chrome and wood were increasingly used to add decorative flair to a wheel and, by the 1960s, many automotive accessory companies, such as Momo and Nardi, were supplying manufacturers like Ferrari with their own exclusive, and stylish, designs.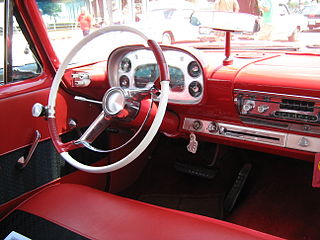 The featured Alfa Romeo steering wheel was originally attached to a 105 series coupe. It was designed and manufactured by Personal, an Italian company formed in the early 1960s and supplier of equipment to numerous Formula One teams, including Williams and McLaren, throughout the 1980s and 90s.