\
An early 2000's Jaguar Formula One team jacket.
Jaguar Racing was formed in 1999 from the purchase and renaming of the Stewart Grand Prix team (founded by triple F1 champion Jackie Stewart) by the Ford Motor Company. Ford had owned the Jaguar marque since 1990 and saw involvement in Formula One racing as an opportunity to enhance the prestige of the brand globally.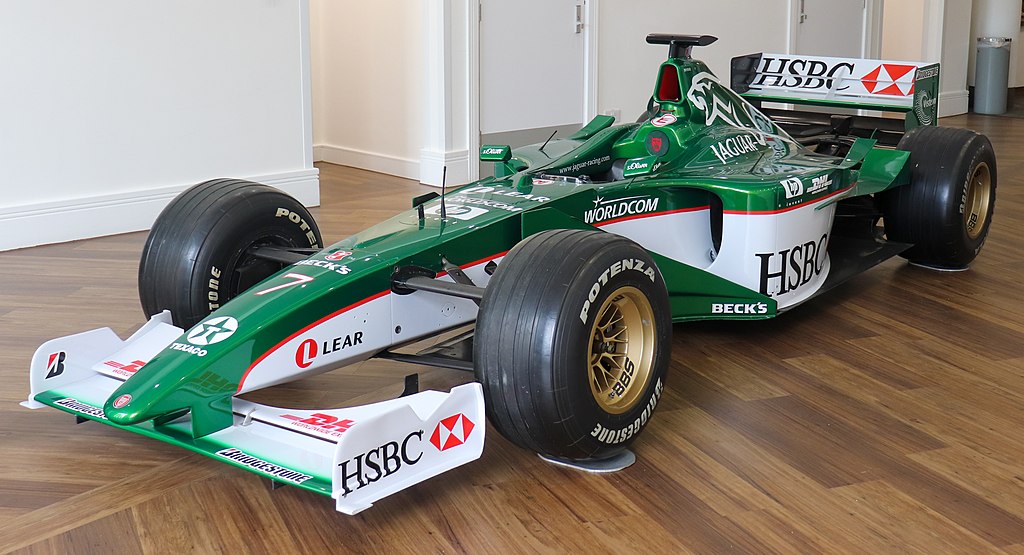 With generous corporate funding from Ford, and the hiring of two talented drivers, including 1999 World Championship runner up Eddie Irvine, the potential of the teams maiden 2000 season looked bright. Things never quite ran as hoped however. In 2004, after five seasons of constant battling at the rear of the pack, the party was over and all Jaguar Racing had to show were two podium finishes and a total of 49 points. The team was purchased by energy drink company Red Bull at the end of the last season and, re branded Red Bull Racing, went on to achieve far greater success.
Ironically, at no point in its guise as Jaguar Racing was any actual Jaguar engineering utilised.
A cynic might suggest that it was all simply a very expensive global marketing exercise for one of Ford's sub brands. And within the world of Formula One, merchandise is a big part of that marketing, as exhibited by the featured Jaguar Racing jacket. This example is reasonably subtle in design, boldly displaying the team colours and corporate logos but devoid of the usual patchwork of supplementary sponsor logos and brands.