A large format photography book showcasing the spectacular Can Am series race cars.
Beginning in 1966 the Canadian-American Challenge Cup, or Can-Am, was a race series exclusively for FIA group 7 category cars. Much like previous Formula Libre events rules were minimal, allowing virtually unlimited engine displacement and aerodynamic designs, the only stipulations being two seats, enclosed bodywork and basic safety features.
The resulting race cars were thunderous beasts driven by the most talented drivers of the era such as Phil Hill, Mark Donohue and Bruce McLaren, who were drawn to the series as much by the generous prize money as the spectacular speed and power.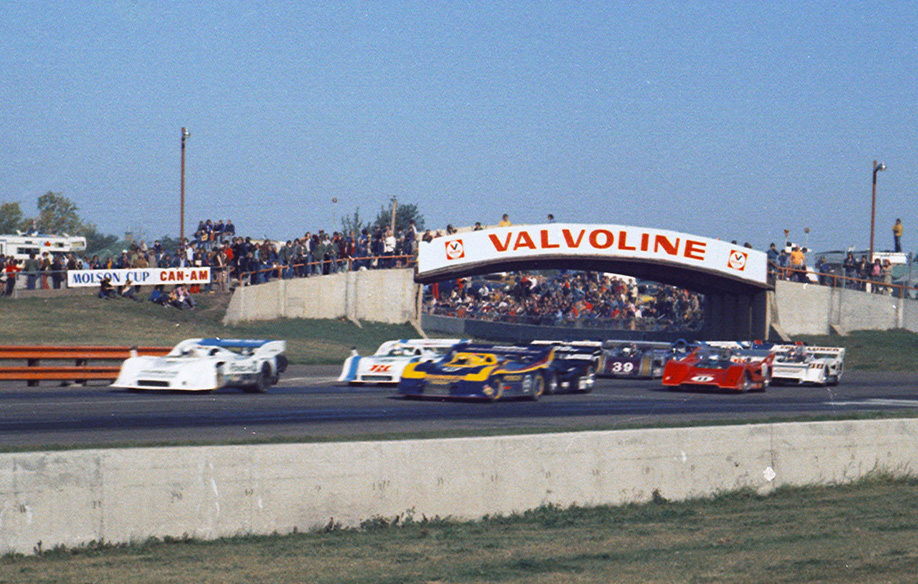 The original era, widely considered the 'classic' era of the series, ran from 1966 to 1974 and was dominated at different periods by two teams; first by McLaren (1967-71)with drivers Bruce McLaren and Denny Hulme, and then by Porsche (1972-73)most famously running the 917/30 with Mark Donohue. The 917/30 was one of the most powerful race cars ever built, capable of producing up to 1500 horsepower from its turbocharged 5.4 litre flat 12 engine.
Numerous other manufacturers joined the Can Am party at various times with varying success. Teams such as Shadow, Lola and even Ferrari gave it a shot, but it was Jim hall's Chaparral team that is remembered as fielding arguably the most innovative cars in the series. Taking full advantage of the generous aerodynamic regulations Hall and his team first introduced the 2E and 2F, each sporting a massively high movable rear wing. When such devices were banned Hall produced the 2J 'Sucker Car' which incorporated a conventional Chevrolet engine for propulsion and a smaller snowmobile engine powering twin fans at the rear which, in unison with adjustable side skirts, developed a vacuum underneath, effectively sucking the car to the road.
Due to a decline in interest and increasing costs the Can Am show came to a halt at the end of 1974.
It was a wild ride and produced a series of powerful, fast and occasionally wacky cars that are celebrated in the beautiful studio images of 'Can-Am Cars in Detail'.